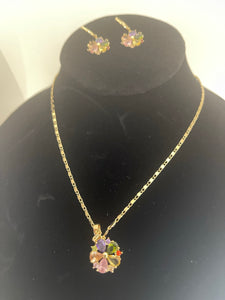 Elevate your style with our Pink Multi-Colored 20-Inch Gold Tone Necklace and Matching Earrings Set. This enchanting ensemble is a celebration of femininity and elegance, featuring a 20-inch necklace adorned with a captivating array of pink-hued gemstones in various shades and sizes. The soft and radiant tones are elegantly complemented by a luxurious gold tone finish, adding a touch of sophistication to the set.
To complete the look, the set includes coordinating earrings that mirror the delicate gemstone arrangement of the necklace. The harmonious blend of colors creates a mesmerizing effect, making this set perfect for special occasions, romantic evenings, or whenever you want to add a dash of elegance to your attire.
Indulge in the allure of pink multi-colored gemstones and the timeless beauty of gold, making a statement that's both graceful and charming with this necklace and earrings set.