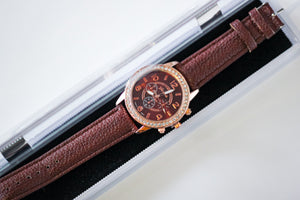 This is a classic look for your wrist - the Truffle Brown Leather Analog Watch. The pebble patterned, stitched leather band provides a note of warmth and class that will complement a casual ensemble.
A wreath of star-like stones circles the round bezel. The watch face, with a chocolate metallic finish, has easy-to-read gold-tone numerals. Along with hour and minute hands, this watch features a second hand for tracking the 3600 seconds that occur each hour. Because, yes, every second matters.

Three static chronograph dials enhance the design of the watch face. On the side, three watch stems complete the look of an expensive and elegant timepiece. The center stem winds the watch and sets the time. The other stems are non-working.
This comfortable leather banded watch is ten inches long and ¾ inch wide. The belt-buckle style gold-tone clasp adjusts to fit wrists from 6 inches to 9 ½ inches. The watch bezel is 1 ½ inches across.
Manufactured by Geneva, this watch has a one-year guarantee.